Kenya tips, documents and news
Tips for your trip and stay in Kenya
People are not traveling, are the trips that people do. (JohnSteinbeck)
Traveling is a wonderful experience, especially when enroute go your way. However, is not just luck: the traveler planning a trip abroad, perhaps in a country far away and exotic, must do their part to ensure that the journey will become unforgettable, understood in the positive sense of the term.
So, do not be taken by surprise if you will find yourself in front of an unexpected tips will make your life easier and in some cases even save it.
If the difference between tourist and traveler we know very well, quite another to understand what distinguishes a good traveler from a simple traveler. None of us is born experienced traveler: it is something that is acquired with time and experience. At the beginning it is normal to make a lot of errors: little knowledge of the place you visit and local customs, disorganization.
These are all things that will improve gradually and that will help you become much more than just a tourist. To accelerate this transformation, trust the advice of the traveler, the one who makes the journey a way of indispensable life, whose desire to visit and learn about the world and mankind, than the thoughts and responsibilities of lives "normal" (if then there is a normal life).
I should point out that the business traveler has nothing to do with the one oriented to leisure and requires greater and careful planning.
Visas and Stamps
Travellers of Italian nationality, as well as those of most countries, must be equipped with Visa, which allows a stay of up to three months.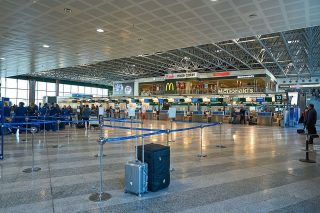 January 17, 2021
ITALY-KENYA ROUND TRIP: WHAT YOU NEED
All updated information for the trip.
The new Italian Prime Ministerial Decree of January 16 did not actually change anything in terms of travel beyond Europe, or the so-called "Schengen area".
Therefore, travel for tourism remains officially prohibited.
Those who have a second home in Kenya or a regular lease or have proven reasons of urgency can prove them with a self-certification and attached documents and embark upon an online visa issued by the Kenyan authorities.
By order of the Kenyan immigration authorities to airlines, in fact, those who do not have a visa online will not even board a direct flight to Kenya. We remind you that to fill out the online visa you need to go to the accounts.ecitizen.go.ke/register/visitor link on the Kenyan immigration site.
The fact that many compatriots are leaving for tourism anyway and are not checked at the airport does not represent a total certainty of the possibility of being boarded. Sometimes random checks are carried out, sometimes a fussy employee at check-in can make you lose your trip and ticket.
Then there is the "necessaire" chapter for the pandemic emergency:
SWAB: To enter Kenya it is necessary to present the PCR buffer (not serological, no other type of analysis) carried out no more than 96 before departure at the Nairobi or Mombasa airport. This says the Kenyan protocol and is also reported by our Foreign Ministry. However, lately it may happen that there are indications of 96 hours before arrival in Kenya. This has already happened and it is a problem of interpretation of the protocol (which in English says "before travel", therefore "before the journey"). To be totally certain of entering Kenya, it is therefore advisable to have the Swab carried out no more than 96 hours after arrival in Kenya.
WITH THESE REQUIREMENTS THERE WILL BE NO NEED FOR QUARANTINE
QR CODE: You need to get the QR code that will be scanned by the Kenyan authorities to notify the Ministry of Health and other offices of your presence on Kenyan territory. You can get it by filling in and sending this FORM:
https://ears.health.go.ke/airline_registration/
To return from Kenya, the country's government currently does not require a swab, nor does Italy require it upon entry (and doing so does not remove you from quarantine, which is always subject to occasional checks or to your communication to the ASL).
For now, the obligation to have a buffer for boarding back to Italy can only be requested by airlines.
It is therefore advisable to ask the same companies you are traveling with and in any case, swabbing can be a form of respect for other travelers and peace of mind for those leaving.
By malindikenya.net
January 12, 2021
NO BUFFER OBLIGATION OUT OF KENYA
For now, contrary to what is established by the Kenyan Ministry of Health, it is still at the discretion of individual airlines.
For travel between Italy and Kenya, where there are no obligations in airport transits by the countries where the aircraft change is made, everything remains unchanged.
The obligation to have an exit buffer, as reported by the website of the Embassy of Italy in Kenya, remains at the discretion of the airlines, despite the press release issued in recent days by the Ministry of Health regarding the use of the TT (Trusted Travel) code which is a security system to check the authenticity of the tampons. System that has already been put into practice on the African continent and that has also been approved by France, Germany and the United States, but which has not yet had the effect of the obligation to present a negative Covid-19 certificate to the Kenyan authorities to be able to leave the country.
As well as to enter Kenya from Italy, the request for the PCR swab made no later than 96 hours before arrival and the QR code to be presented at the ports of entry remains unchanged.
However, it should be noted that in the press release from the Ministry of Health it is assumed that anyone must have a tampon with a TT code. We will have to see what the government will decide in the next few hours, days, or even never.
However, this is the notice of the Italian Embassy.
Kenyan authorities have launched a new online COVID test verification system for passengers arriving in the country, effective from 11 January 2021.
Arriving passengers must register and enter the site https://trustedtravel.panabios.org/ ; signing in; select the item "Check in" and choose the route of your trip; upload your negative COVID PCR certificate and enter your flight information. The procedure is used to generate an alphanumeric and QR format "Trusted Travel" code, which can be requested at the airport.
Pending the full operation of this new system (and in case the above procedure is not successful), travelers arriving in Kenya are still recommended to have their negative certificate for COVID PCR test carried out no earlier than 96 hours. from the arrival in Kenya, translated into English.
For travelers departing from Kenya and headed to Italy, there is still no obligation to present a negative COVID certificate, unless the same is required by the airline or by the country in which the airport transit takes place.
If this occurs, travelers who carry out a COVID test in one of the laboratories authorized by the Government of Kenya will receive an email and / or an SMS from PanaBIOS with instructions to generate their own "Trusted Travel" code online (where this is not occurs after a certain period of time, it is advisable to contact and request the laboratory where the test took place). Even in this case, it is still recommended to have your paper certificate with you.
By malindikenya.net
January 3, 2021
KENYA EXTENDS FIRE COVER UNTIL MARCH 12, 2021
The closure of bars and restaurants remains in force at 9pm.
Kenya recently decided to extend the national curfew, in place every evening from 10pm to 4am, until March 12, 2021.
This was announced by Interior Minister Fred Matiang'i at the exit from the meeting of the National Emergency Response Committee (NERC), communicating a decision that came directly from President Uhuru Kenyatta.
"The Head of State has decided to maintain the curfew in an attempt to curb the spread of the Covid-19 virus, also because the school calendar resumes tomorrow, Monday 4 January. At the same time, President Uhuru Kenyatta extended some of the containment measures in view of the reopening of schools. We realize that we are not normal, due to Covid-19. So our President issued an executive order to guarantee the health of our children and therefore an extension of the national night closure ". Matiang'i also confirmed that the other measures that depend on the "curfew" (curfew), ie the closure of restaurants and bars at 9 pm, will remain in force, as well as that religious or political meetings in closed rooms have no more than one third of the capacity, that no more than 150 people can participate in weddings and funerals and that all outdoor gatherings and political rallies are banned, as well as sports activities outside the individual schools.
By malindikenya.net
December 15, 2020
Attention!
From 1 January 2021 to enter Kenya only visa online!
As of January 1, 2021, entry visas to Kenya will be issued exclusively electronically, with the obligation for passengers to obtain the e-visa before departure. The electronic visa (eVisa) will be an entry requirement for all travelers. The online platform allows those who travel to Kenya and are entitled to it, to obtain permission to enter the African state in a much faster and easier way than applying to an embassy or consulate.
The single entry visa can only be requested online on the evisa.go.ke website.

September 29, 2020
Attention!
The President of Kenya, Uhuru Kenyatta, extended the curfew for another sixty days, from 11pm to 4am. Bars and pubs will be able to reopen but only until 10pm.
June 17, 2020
Attention!
Partial back of the government. After the protests, the restaurants in Kenya will remain open until 19.30. Bars and pubs are closed.
The distances between people (1.5m) must be respected and the tables cannot accommodate more than four people, kept at 10 square meters from the others. In addition, the measures require that all facility workers be subjected to Covid-19 swabs to reduce the risk of waiters and staff spreading the disease.
June 6, 2020
Attention!
The President of Kenya, Uhuru Kenyatta, has announced the reopening of the Counties of Kilifi and Kwale, and the neighborhoods of Eastleigh in Nairobi and Old Town of Mombasa starting from Sunday 7 June with the starting time of the curfew from 9 pm (two hours more than the previous one) and reopening at 4 am (one hour before the previous one).
Curfew extended by two hours does not mean that restaurants can close two or more hours later. Kenya's Ministry of Health reiterated that all restaurants must be closed by 4 pm as announced by the government last April.
There is no good news for those who would like to come to Kenya shortly or for foreigners and businessmen who would like to go abroad. There will be no Kenya openings to foreign countries through international airports: the containment measures of Covid-19, in this case, have been extended by another 30 days. So for now the skies will not reopen, but the President has announced that steps will be taken in 7 days to reopen the domestic flights.
According to the Government, the technical conditions are not yet in place for each County to face the possible growth of the pandemic in the country, given that the projections for the end of July foresee about 30,000 infected, but that in the idea of ​​a reopening, even only partially they could count 800 thousand with 27 thousand dead.
As for the other gatherings, functions and meetings, the ban on meeting more than 15 people is extended by another 30 days.
The ban on going to the beach, walking and stopping along the coast remains. So those who go to the beach and stop or walk there risk a fine and, if you do not comply with the Covid-19 rules (mask and social distances) also the arrest and quarantine in government centers for 14 days.
April 22, 2020
Warning!
The President of Kenya, Uhuru Kenyatta, on 27 March last, using a task force of 21 experts, at the news of the first case of positivity immediately issued few and clear rules to contrast the spread of Covid-19: ban on gathering, distance social, health rules, mandatory masks, suspension of domestic and international air flights, curfew from 19 in the evening until 5 in the morning until a date to be set, closure of non-essential activities and lastly the ban on moving between counties with some subjects tested positive for coronavirus.
No public or private vehicle will be able to travel throughout the country, with the exception of employees from the health, safety and other logistic frameworks of the institutions.
On April 6, the President announced the cessation of inbound and outbound movements from the three coastal counties of Mombasa, Kilifi and Kwale for three weeks.
From yesterday evening, April 21, 2020, even those who reside in Kilifi County but work outside will no longer be able to return unless they have a special letter signed by the County, as well as no commercial vehicles, except for the transport of the first goods only needs exempted from lockdown. Likewise, no one will be able to leave Kilifi County any longer, not even to pass only through the other two of the coast, namely Mombasa and Kwale County. All special passes that had also been delivered to central government employees were withdrawn.
December 4, 2019
Kenya visa: even in 2020 the hard copy is valid.
Even for this new tourist season, and is expected throughout 2020, foreign tourists will still be able to enter Kenya with the paper tourist visa completed and requested directly at the customs of entry into the country, as well as with the online one to be obtained only and exclusively. through the site evisa.go.ke (the other sites that offer it are agencies that add a commission or are scam sites, so better avoid). Although the online visa is now a fact and its implementation on the Immigration Office site usually makes it easily obtainable in a few hours from the request and payment by credit card, near the high season, with the many requests, the release type may have delays. However, the Ministry of Tourism has confirmed that for the fourth consecutive year since its introduction it will still be possible to enter Kenya with the paper permit (50 dollars or 40 euros) obtained directly at the airport. Considering the amount of charter and scheduled flights that will overlap over the days from 21 December, the online visa could avoid some additional queues for tourists, allowing them not to have to stop at the airport immigration office entrance to fill in a second form, while the first is usually provided by plane (depends on the companies) or download from this link.
By MalindiKenya.net
November 2, 2018
Warning!
The entry visa for tourists in Kenya (VISA), is valid for 90 days and costs 40 euros. Subsequently, by paying about USD 50 (Kshs 2,200), it can be extended for another 90 days at the territorial Immigration Offices in Kenya.
However, upon arrival at the airports, the Kenyan Immigration Officers could stamp visas for one month only.
The Directorate of Immigration of Kenya has in fact given instructions to its Officers at the customs entry points to issue one-month temporary Tourist VISAs that can be extended free of charge for the following two months at the Immigration Offices of territorial jurisdiction.
So before the deadline, you must contact the local Immigration Offices for the free extension of the visa.
It should also be noted that the extension of even a single day in the following quarter (to the first three months) will result in the payment of a tax of Kshs 2,200.
These provisions are transitory and however subject to future changes.
September 5, 2016
Adaptation of Malindi airport to international airport.
The start date of the runway adjustment works was certified by the words of the Undersecretary for Transport Irungu Nyakera with the start of the new fiscal year, which in Kenya means from June. According to the plans presented some time ago by the director of the airport, the works should last about 18 months, so it is plausible to think that Malindi will finally have an international stopover in 2019, 2020 or 2021, according to systematic bureaucratic delays.
September 12, 2015
Reinstatement of manual entry visas to Kenya until a later date.
In a note issued by the Ministry of the Interior and sent to all interested parties, then published by the press agencies and tourist agencies, the Kenyan government has decided to restore manual visas also in the customs port of entry into Kenya until a date to be destined , as well as online.
The government had previously ordered:
Until 1 September 2015, the entry visa can also be issued by the airport authority of Nairobi or Mombasa, from that date the single entry visa can be requested exclusively online on the evisa.go.ke website with a cost of USD $ 51 and paying using a Visa or Mastercard. Processing time is 2 business days.
Once issued, the e-Visa (electronic entry visa) will be made available on your e-Visa account.
You must print a copy of the report to be presented, together with your passport, to the airport authorities when you arrive in Kenya. The photo is not necessary.
The e-Visa is valid for 3 months, so travel must be undertaken before it expires.
Upon reaching immigration control at the airport entrance station, a visa is issued for a period of stay not exceeding 90 days, which can be renewed for another 90 days at an immigration office. The maximum number of days a visitor can stay in Kenya is 6 months.
In case of cancellation of the visa application or the same is not granted by the government of Kenya, the fees will not be refundable.
The visa, issued by the airport authorities, must be paid exclusively by credit card.
In the face of unwelcome surprises, I suggest that you make your entry visa online.
Further notices
Travelers also must show that they have a return ticket, otherwise it is possible that the authorities require the purchase of a return ticket or make a refundable deposit.
Taxes are included in the airfare so you don't have to pay them at the time of departure from the country as it once was. You can import foreign currency up to a maximum of USD $ 5,000. In Kenya, the money must be officially changed only in the offices in charge as banks or bureaux de change, even if the change is illegal in sunlight.
Customs restrictions are similar to those of other countries, the weapons are totally prohibited, including toy weapons (which should still be reported to the entrance in the country), it is also prohibited even the hunt from 1977. It is strictly forbidden to export ivory, horns, turtles, corals, reptile hide.
Remember that your passport must have a validity of at least six months remaining. At the entrance in the country, is affixed a stamp in your passport which is the duration of the stay. We recommend tourists to declare the actual period of stay in Kenya and to check the stamp affixed to the Passport. The extension of the stay of three additional months may be extended only in Kenya at the offices responsible for immigration. Penalties for failure to follow this procedure can also arrive to arrest. To enter Kenya passports must have at least one entire blank page, in order to affix the entry visa. Otherwise, travelers may not be accepted at home and return to Italy with the first flight.
With the conversion of Decree Law of April 24, 2014 the Italy aligned with other States of the European Union by abolishing the annual stamp in your Passport from June 23, 2014. It was expected, however, the introduction of an administrative contribution, valid only for issuing ordinary passports and a computerized Government grant mark that can be purchased from resellers of stamps, amounting to EUR 73.50 (first was 40.29 euros). That amount, which also concerns the assumptions for release of minors, must be added the cost of the booklet, equal to euro 42.50.
Health risks
KENYA
No vaccination is required. May be required vaccination against yellow fever, if you come from countries where the disease is widespread. Kenyan health authorities have informed that the vaccination is also required visitors who make a transit at those countries.
TANZANIA
Vaccination against yellow fever is required only for travelers from countries where the disease is endemic (Kenya, Ethiopia, etc.), even in the case of airport transit only, if this is greater than 12 hours, and in any case if you leave the airport. It is advisable, however, to those who come from countries where the disease is endemic, to obtain the certificate of vaccination against yellow fever.
There are also rare episodes – which occurred only incidentally to the airport "Kilimanjaro" – by passengers who, having made a few hours in transit countries where yellow fever is endemic, were obliged to make its vaccination. It considers whether cases of errors of the airport medical staff or, more likely, of being taken advantage of. It is recommended to compatriots not to comply with those requests.
HEALTH TIPS FOR KENYA AND TANZANIA
Anticolerica yellow fever are recommended only in cases of very specific routes outside the normal tourist paths.
As a precautionary measure many recommend antimalarial prophylaxis (there are no vaccines in that sense: the RTS, S, trade name "Mosquirix", so it will be called the first vaccine produced by Glaxo Smith Kline against malaria, will be marketed in 2017). Usually it is recommended taking LARIAM as antimalarial prophylaxis (at least 2 weeks before departure one tablet a week, during their stay in Kenya and in Africa for at least 3-4 weeks). It is a quite strong medication which can be variably tolerated (consult your physician). As an alternative to this drug is recommended the PALUDRINE (now available in pharmacies); taking this medication may begin from the day of arrival in Kenya for the duration of your stay and then for at least 3-4 weeks upon return from the trip (2 tablets per day every day). It is a milder drug and therefore more easily tolerated and still a good antimalarial prophylaxis. Among the last born in the field of Pharmacology to antimalarial prophylaxis should be reported the MALARONE (effective drug however still not available in Italian pharmacies – only on request). I personally do not recommend any form of antimalarial prophylaxis cited above, especially for effects that might arise and which vary from individual to individual.
Malaria is caused by Plasmodium, a Protozoan parasite. It causes high fever, headaches and pain in other parts of the body. If it is not treated early, it can quickly evolve into a State of serious illness up to involve the brain, with a high risk of death and brain damage.
When a person living in a malarial area has a fever, health professionals must know the causes to be sure to give the right treatment. For many years professionals they prescribed and prescribed today, non-specific antimalarial drugs. This means that sometimes people receiving the wrong treatment resulting in a waste of resources and increased resistance to drugs available.
Today there are commercially available rapid tests that are designed to detect malaria based on the presence of the parasite antigens, using a format that is fast and easy to use. Until recently, the confirmation of the diagnosis of malaria was made following the identification of parasites in a blood sample. This procedure requires highly qualified staff, equipment, instruments, reagents, and sometimes not always available in certain areas of sub-Saharan Africa. The rapid tests involve the use of antibodies which, in contact with the infected blood of a patient, bind to malaria parasites and trigger a color change on a strip that can be easily seen with the naked eye. While these tests are technically difficult to produce, once manufactured are relatively simple to perform, do not require specialized equipment and provide accurate results in many geographical contexts.
We can say that these tests that detect the antigens are able to locate at least 19 cases out of 20, a success rate that makes these potentially very useful tools in clinical practice.
The use of rapid tests are therefore a step further towards achieving accuracy in the diagnosis of malaria and the key to ensuring the proper treatment to be administered to patients. Resources can be safeguarded with a rational use of anti-malaria drugs and this will also reduce the pressure on drug resistance.
There are several types of fast diagnostic tests designed to detect the malaria parasite. All tests work quite well, but require more studies to evaluate how easy to use and what obstacles there might be to be adopted in all countries.
In the absence of the aforesaid tests, atthe onset of the first suspicions of malarial infection, you should reach the first hospital to perform in five minutes, with a few euros and a drop of blood taken from the finger of one hand, the malarial test.
The fact remains that rapid diagnostic tests are not a therapy and disease, however, we must bear in the hospital to find, with a blood test, the type of parasite that has infected you. This is because there are various species of parasite Plasmodium, four are the most common, but the most dangerous is the Plasmodium falciparum malaria, with the highest rate of mortality among infected individuals. Once you find the care the parasite is found in any pharmacy even with only two euros. You will wonder: how come in Africa die from malaria every year thousands of people, especially the victims are children, if there are hospitals, appropriate therapies and hundreds of humanitarian associations ready to offer their help? This is a question to which I answer only personally "face to face".
Just to clarify: the mosquitoes of the Anopheles genus are the one and only vector of malaria, while the parasite reservoir is formed by individuals infected chronically. So in the absence of people infected with parasites that, you can not contract the disease. These actors, although not experience the symptoms of malaria, does not mean they can not be carriers of the parasite.
Most Anopheles mosquitoes become quite active at dusk, dawn and at night; while during the day they rest away from the sun, to avoid dehydration.
The body of the adult Anopheles mosquito has a color ranging from dark brown to black and is divided into three sections that are head, thorax and abdomen.
It will be easy to recognize the Anopheles only from the belly side up, during its period of rest, in contrast to other mosquitoes that keep it parallel to the surface on which rest.
The "incubation period" infection transmitted by Plasmodium falciparum, also called "malignant tertian fever", that goes from infection by mosquito bite to the appearance of the signs and symptoms of malaria, is from 9 to 14 days.
Tip: do not attempt to come back as soon as possible in your country for the treatment of this infection. Where you are you can have all the necessary therapies, not found in other countries, which, in many cases, consist of the combination of two or more drugs.
I suggest also some simple preventive measures and useful:
– sleep under mosquito nets (both in hotels on the coast and in lodges/tented camps within the beds of rooms have gorgeous mosquito nets);
– spray inside the Chamber some insecticide (at sunset before dinner);
– use where air conditioning is available to maintain a temperature inside of your room cool and therefore not suited to mosquitoes;
– use on parts of the body discoveries repellents against mosquitoes (Autan-type or similar to citronella-based);
– wear light clothing and clothing (long pants, long-sleeved shirts, socks) after sunset.
For those who follow special medical treatments you should start with a good supply of medicines. In larger centres, pharmacies are available and adequate medical services. Doctors and hospitals typically in case of hospitalization and/or care require payment in cash of the services provided. It is therefore always advisable to have upon departure a valid insurance cover (type, Cea, Vibhor Europe Assistance etc.) that can guarantee even in extreme cases the return. Hotels and lodges/tented camps offer various buffets, plentiful and of excellent quality standards. Fresh vegetables (raw and cooked) and fruit are excellent and always well cleaned and available at buffet with a great variety of meats (veal, beef, pork, chicken, etc.) and fish and shellfish as well as rice, pasta and local African cuisine very good and tasty. We recommend that you do not eat fish and shellfish at street vendors or at kiosks and hot in the Sun where the food could easily be spoiled or not. The same recommendation applies to beverages and bottled water.
I personally recommend the following immunizations: diphtheria and tetanus, yellow fever and cholera (strongly recommended), viral hepatitis A, viral hepatitis B, typhoid fever, meningococcal meningitis, rabies, polio.
In Kenya it is not safe to drink tap water, so you should consume only water in sealed bottles or hot drinks. Alternatively, the water can be treated by boiling for at least 15 minutes, in order to ensure the most effective of the purifications. Vegetables and fruits, if eaten raw, should always be well washed in running water and is never excessive indication of rilavarle with concentrated disinfectant solutions (Lysol, Dettol etc.)
Malaria risk exists throughout the year and across the country. There is low risk in Nairobi and in the Highlands (above 2,500 metres) of the provinces: Central, Eastern, Rift Valley, Nyanza and Western.
Other risks: dysentery, amebiasis, giardiasis, intestinal parasitosis, schistosomiasis, trypanosomiasis. The incidence of HIV infection is high across the country.
Are growing cases of AIDS, cholera, dengue fever, meningococcal meningitis.
Kenya is introducing generic drugs against AIDS, at a cost of 3 euros and a half the pack. The Nairobi health authorities have announced that shortly, many batches of the generic version of the Dolutegravir will be purchased. The drug, approved in the United States in 2013, will be administered to 20,000 patients in Kenya before being employed in Nigeria and Uganda by the end of 2017. The adoption of this treatment is part of a broad strategy to contain The spread of HIV in Africa, where about 75% of people with the virus live. On average, the price of drugs will be reduced by ten times its cost. A box of 30 pills, before this introduction, cost between 22 and 44 euros and was enough for one month of treatment.
I recommend bringing a small travel pharmacy with you (antacids, painkillers, anti-istaminici, anti-diarrheal, reidratazioni oral, broad-spectrum antibiotics, antiseptics, plasters, scissors, thermometer, solar protective lips and skin) and health insurance that includes, in addition to the coverage of medical bills, even the possible repatriation or air transfer to another country.
Before the trip requires a careful evaluation of the goal, the duration, the type of trip, the traveler's health conditions.
CARE GREEN AGAINST MALARIA
From the artemisia a derivative effective.
«Pharmacological prophylaxis against malaria? No thanks. Today malaria treatment at the first symptoms. The drugs that are used for prevention are expensive and have side effects. Better artemisimina, an active substance contained in the artemisia plant». Who speaks so sure is Mauro Saio, an Italian doctor who twenty-five years working in Kenya and a score to Nairobi Hospital.
His specialty is to study and treat malaria, a disease that causes every year from one million to three million deaths, according to estimates. According to the World Health Organization people affected each year by malaria which is responsible a parasite called Plasmodium, transmitted by the bite of Anopheles mosquitoes, they are 500 million worldwide. Parasitic insidious: wetsuit genetically very rapidly and is transformed so as to develop a ready drug resistance.
«That's why the old quinine useful cent 'years ago – explains Saio – is no longer needed. Its effectiveness has decreased to become almost zero. So it happened for Halofantrine, which was used liberally for fifteen years' ago. At that time it was understood that he had to associate two different drugs, so as to reduce the occurrence of resistance. Treatment with quinine, as they plasmodium becomes resistant, was accompanied with administration of antibiotics: at first it was used as tetracycline, doxycycline now».
«In the early nineties – still he tells the Italian doctor – I invited Kenya Professor Lee because it presented a new active ingredient for use in your country, China, for at least 3000 years: the artemisimina, water soluble compound and so easily absorbed by 'body. Kenya used the artemisimina not only worked perfectly but killing the parasite making it even sterile, reduced transmission. In particular, it gave excellent results against Plasmodium falciparum, the most dangerous of the four parasites that cause malaria. What when it hits almost always, if not treated, it kills and develops drug resistance very rapidly. Only in '98, after having saved dozens of people with a drug made with artemisia alone, I noticed the first signs of the parasite resistance. Apparently healed the sick, but after a few weeks you presented to hospital with a recurrence. To lock the evolution I have tried to associate the artemisimina with other drugs, but with little exciting results, also because I had to use those medicines that had major side effects. Finally it was tuning a specialty that on the one hand with the cure malaria artemisimina, and on the other prevents the parasite becoming resistant, with lumefantrine. It's a great drug: entered production in 1999 in seven years has not lost its effectiveness».
Its intake is simple. If you experience any of the symptoms of malaria, high fever, headaches and exhaustion, after testing for the presence of Plasmodium in blood take 4 tablets, twice a day, after meals, for three days.
A big difference if you think that the drugs used for prophylaxis should be taken a couple of weeks before arriving in malarial zone and a few weeks after leaving. «The only real prevention that should be applied is made of simple measures; – specifies Dr. Saio – cover up with long sleeves after sunset, sleeping under a mosquito net and use insect repellents applied to the skin». Gimmicks good but that still does not totally prevent contagion. For those who live in an endemic area, the new treatment is a cure: the pharmacological prophylaxis implored yes malaria, but it became too much weight to the liver, the organ where the plasmodium focuses and develops.
And then the price really low, even if in the third world (given the extreme poverty of their people) can not use the term "accessible to all." A treatment cycle costs 1.2 Euros for an adult and 80 cents for a child. «Since I use this medicine – he explains Dr. Saio laughing – are almost unemployed. I did a lot of research and statistics, and are convinced it will be the solution for serious combat malaria. It is not an easy way, because the manufacturers of older drugs do not intend to remove from the market their products. But soon will have to do it because the WHO, by now, has taken her too heartily the dell'artemisimina street and the use of two drugs in combination».
The antimalarial "cocktail" Coartem, is the medicine based on artemether (derivative of artemisinin) and lumefantrine. In Kenyan pharmacies you can buy the DIY kit with the slide to check for the presence of "Plasmodium falciparum", and with the two combined medicines.
Malaria causes a real massacre, but a precise figure does not exist and varies greatly depending on the estimates.
500 million new clinical cases per year (of which 90% in tropical Africa) and from 1 to 3 million deaths each year. This is the World Health Organization estimates on infected by Plasmodium malaria.
Warning: the researchers found that about 21.3 million people (24% of all confirmed cases of malaria) were subjected to inadequate doses of Eurartesim, a combination therapy based on artemisimina (commonly known as ACT) , the first-line treatment against Plasmodium falciparum malaria.
KENYA: CHINESE PRODUCTION ANTIMALARIC DRUG, DECLARED FALSE AND INEFFECTIVE
It is the "Duo-Cotecxin", an antimalarial drug imported by the Chinese pharmaceutical company Zhejiang Holley Nanhu Pharmaceutical which is among the most widespread in Kenya, used both as preventive prophylaxis and as a cure for the attack to the onset of the infection. Cleopa Mailu of the ministry of health yesterday ordered the withdrawal of all the packs present in the pharmacies of the country because, according to the analyzes carried out, not only would it be an ineffective drug to fight malarial disease, but it would also have serious side effects, thus placing citizens' health at risk.
The laboratory analyzes were performed by the Drug Analysis and Research Unit (Daru), Department of Pharmaceutical Chemistry of the University of Nairobi who reported the danger to the competent governmental authorities who then ordered the immediate stop of sales of the drug. "The sample we examined – specifies the release of the laboratory – presented some components not aligned with the sanitary standards foreseen and therefore harmful for the users".
The news raised understandable concern in the country because, thanks to its low cost, it was a widely used drug, especially from the less wealthy social classes that preferred it to other more expensive prescriptions. This discovery has also brought to the fore the question of the vast presence in Kenya of drugs of Indian and Chinese origin, medicines that are more often produced without having an adequate research structure behind them and that penetrate the markets thanks to the reduced price compared to the originals. . These are products that copy those of the most renowned pharmaceutical companies and are called "comparative drugs".
Although in recent years the malarial disease has registered a comforting decline in the number of deaths, it nevertheless continues to rage in Africa, where it is far from eradicated and continues to claim victims, especially among children. The World Health Organization estimates that around 500,000 people worldwide die of malaria each year and 66 per cent of them are children. Difficult is the work of the various humanitarian organizations that struggle to make the African populations adopt even the most elementary preventive precautions. A few years ago, mosquito nets given to the people of Zanzibar, instead of protecting the inhabitants during their night rest, were used as fishing nets.
The issue of preventive antimalarial prophylaxis is widely debated, mainly adopted by tourists during their short stays in risk areas. Meanwhile, it does not guarantee total protection, but above all, it presents such and many side effects that often discourage the intake. In fact, what saves from the disastrous effects of the malarial disease, is a prompt diagnosis at the onset of the first symptoms and the immediate adoption of the necessary care that often allows to resolve it in a few days, except for the presence of other serious pathologies that can create complications leading, perhaps, to the most devastating form that is given by the so-called cerebral malaria.
The female of the Anopheles mosquito is the bearer of this unwelcome affection and above all in the African scenario there was certainly no need to discover that one of the drugs, distributed to eradicate it, not only does not serve the purpose, but even puts at risk the health of those the taking.
Visiting times
The best times to go in Kenya are from December to March and from July to October, when the climate is more bearable and comfortable to travel. From April to June and from October to December you can unleash torrential rains and floods, thus making the unsurfaced roads almost impassable. The best time to see the annual migration between Serengeti National Park in Tanzania, and the national reserve Masai Mara in Kenya, between July and October and December-February, however, times may vary from year to year.
Regarding the climate generally refer to section " Climate of Kenya ". For real-time weather forecasts, wind, tides and weather forecast Malindi and all weather stations see "Windfinder".
Transport
Drive:
In Kenya the roads are generally good, but some parts are at risk. In the rainy season riding almost exclusively with four-wheel-drive vehicles. The guide is in English (on the left side of the road), but mostly the cars have automatic transmission, which is very convenient. To guide the international driving licence serves although, honestly, it is not essential; the licence from other countries is accepted with English translations, but even this translation is not binding. The controls are limited, but if you stop and ask you explicitly a mancetta, go get him some without making any objections, is annoying but unfortunately does so, you will avoid trouble far greater. A fine is scheduled for serious infringements as not respecting the speed limits, pass with red light, do not fasten seat belts, etc.
Car hire costs around 25 euros per day, even up to 50 euros for those with four-wheel drive. Recommend, to the release of the vehicle, check that it is secured and deliver a receipt where are the data of the car and its rental period.
Be careful: the streets are all difficult and not all have signs, then there is also the risk of getting lost.
Pay attention to the fuel shortage. Better bring a spare fuel tank.
Kenya has a good transport network with the buses (matatu), minibuses and taxis, but not very sure as accidents occur regularly, this also applies to the tuk-tuk (Ape Car) that are used daily for the city.
By train:
It is a movement in Kenya only for the more adventurous and I strongly advise against, unless you have made prior experience. It can happen to need to book tickets with two to three days in advance.
By plane:
You can cover large distances and the trip is quite safe. The national airline Kenya Airways connects major cities and other small towns.
LAWS AND RULES ON THE GUIDE IN KENYA, ROAD CODE AND CAR RENTAL AND MOTORCYCLES:
When we approach to a vacation spot, though it is a foreign country and in our case from another continent in many ways very different from ours, we tend to take certain things too seriously (especially if touted by the media) and others in very superficial way, especially those related to everyday life.
In this case we treat the help topic in Kenya, the rules of the road and the rental of cars and motorbikes. Here is some information, advice and recommendations.
Remember that in Kenya you drive with the steering wheel on the right, as in England and in a few other countries around the world related to the Commonwealth. On the roads, as a result, drive on the left, while the earlier remains to those coming from the right. All main roads have priority, so you will not find signs of precedence. In roundabouts with clockwise circulation, who entered takes precedence over who should enter, again without the need for signs.
By law, drivers in Kenya must be provided with an international driver's license. Residents must have the Kenyan license.
Any infringement of the highway code (from the safety belts that are mandatory, normally also for passengers in the rear seats to overtaking with continuous strip) is sanctioned with the obligation to go to the local Court to answer and pay the related fine. Although the system of payment of fines by mobile phone is being implemented, it is not yet operational on the Kenyan coast, so any request for payment on the spot by agents is to be considered extortion. Unfortunately in Kenya ordinary corruption, even at low levels, is widespread. Tourists often prefer to stretch a "left-handed" to avoid discussions or wasting time. It is necessary to know that the law in Kenya punishes the corrupt as the corrupter and that the alternative is to respect the laws, go to the Police Station to verbalize and subsequently appear in the Court.
When renting a car or motorbike, make sure that the person who rents it has the license to do so, as well as a valid insurance that also covers accidents to third-party drivers. For rental cars, make sure that, in addition to the spare wheel and the necessaire to mount it, you will find a jacket, a first aid kit and a triangle. In the case of motorcycles, a new law requires owners to have insurance for drivers, passengers and pedestrians. Each county also requires a tax (a kind of stamp) to be shown on request. If you rent without regular contracts, the risk is to be held responsible for any theft of the vehicle and to be held accountable.
The number of passengers a motorcycle can have on board is two, both of which must be fitted with a jacket and helmet. It does not matter if the local population very often does not respect these rules, traveling with more passengers or not wearing a jacket and helmet. Controls are always much tighter on foreigners, it is a fact about which it is useless to quibble or argue. Although things are fortunately changing. By law, even tuk-tuks must have seat belts on board for passengers and could not exceed three passengers.
RATES OF FINES:
Speed limit exceeded: KES. 3,000
Speed limit exceeded by over 20 Kmh: KES. 10,000
Guide with mobile phone: KES. 2,000
Driving or passenger without seat belts: KES. 500
Lack of emergency signals or accessories: KES. 3,000
Road obstruction: KES. 10,000
Driving or stopping on the sidewalk: KES. 5,000
Failure to comply with road signs: KES. 3,000
Guide without a valid license: from KES. 3,000 to KES. 7,000 depending on the vehicle
Motorcycle with more than one passenger on board: KES 1,000
Motorcycle with passengers without a helmet: KES. 1,000
Motorcyclist without signal jacket: KES. 1,000
by malindikenya.net
More information on driving in Kenya:
The drive on the left (do not forget to drive on the left) carries a high level of attention and a different manual skills due to the gearbox and the steering wheel on the opposite side. This little detail, however, should not inhibit the automotive adventure on roads and dirt roads in Kenya Kenyans because driving is an experience that still, beyond all, is best avoided.
Before leaving, however, guide, you need to know:
– During the first three months of stay, in the Malindi-Watamu area and its surroundings, the local authorities are sometimes less intransigent and turn a blind eye (in exchange for an "extra fee") for those driving with the license of other countries.
In Mombasa, Nairobi and elsewhere in the country should instead drive with an international driving license.
– There is no road signs.
The local drivers are reckless, careless and heedless of the traffic rules so that:
– Do not expect ever to receive precedence.
– The machine flashing oncoming not mean "you I give up, "but I'm coming, you stay still and let me go.
– Fronds branches around stopped vehicles indicate fault / disabled vehicle. The consideration of our triangle.
– Dossi or 'bumps' everywhere. They serve to slow the speed of the car, but they are never marked by lighting, therefore dangerous if taken at high speed especially at night.
♦ Take care:
– Keep windows and doors closed and locked strictly, the speed with which the expert hands take away mobile phones, bags, wrist watches is almost a legend.
– "Reinforcements" to the windows allow you to leave them open when it's hot.
– Circular in commercial zones on weekdays and Sundays: closed shops with little traffic and the malicious gangs move more freely. One of the favorite activities of street children is to stone the machines.
– Oil launched on the wheels lends credence to a fault: the driver gets out and here is materializing a mechanic ready to intervene: time and lost money.
– Launch eggs on the windshield: the instinctive windscreen wiper creates a pasty mush that covers the glass and causes it to stop.
♦ never ever stop, even if the techniques to induce to do so are among the most imaginative:
– various aid requests due also in (fake) accidents.
– dead animals, placed on purpose in the middle of the street, cause to stop believing to be responsible for their investment.
– the bad guys are often agree with the corrupt police forces. Be wary of the patrols that suddenly sprout, almost miraculously.
♦ It is recommended:
– Park in the malls: you avoid hassles and scams improvised valet parking.
– Leave at least 1-1.5 meters away not only between a car and the other but also from the gates where you want to enter. This is to have a way of escape in case of danger.
– You always have a full tank of gasoline to not stay standing! Often the gas stations remain "empty" and expect the supply of up, especially outside the city, even after a few days.
Kenya Time Zone
Three hours ahead of the Greenwich Meridian. + 2:0 with respect to Italy; + 1:0 when in Italy there is daylight. Remember that the definition of time in swahili is staggered 6 hours compared to ours: high noon and midnight are the 6 ('sitta saa'); the 7 and 19 are the one ('saa moja'). You don't need to do is add or subtract six hours per hour that you indicated and it is hoped that, from the context, you understand if you are talking about in the morning or in the afternoon! There will happen often if you don't speak swahili, but it is better to know.
Electricity
220/240 V – electrical outlets typically English style. Adapters for electrical plug type G (three-prong uk with three flat arranged in a triangle) are available in stores in the industry.
Weights and measures
Metric system.
Currency
The international code for the Kenyan shilling is KES
The symbol for the Kenyan shilling is KSh
Kenyan shilling average value in 2020 compared to Euro – 1 Euro = 121,594 KShs
Minimum value Kenyan shilling in 2020 compared to Euro (February 19) – 1 Euro = 108,835 KShs
Maximum value of Kenyan shilling in 2020 compared to Eur (December 17) – 1 Euro = 136,975 KShs
Data collected on February 9, 2021 – EUR/KES = 132,620 – USD/KES = 109,550
For more details and updates please visit the following LINK
See also: THE NEW KENYA CURRENCY
Although most of us know very well that the exchange rate offered at the airport and various hotels is inconvenient, there is still a large number of travelers who use this method to change their money.
Many exchange offices offer free commissions to attract clients; It might seem like a very good deal, but usually the change you receive is not always favorable. Check what prices they offer other local exchange offices, of course opting for cheaper. Branches of official foreign exchange are certainly safer and more reliable, but it is worth always check the exchange rate that varies at any time of the day (do not trust the prevalent exchange rate on the internet by the Central Bank of Kenya because the values ​​are only estimates) so it is best to check before changing the currency, which is determined by the market at that time, where they will be added commissions.
Many restaurants, bars, hotels, taxis, etc. accept Euros or US Dollars as payment: the basic rule is to know exactly the official exchange rate and calculate whether the cost of a dinner in Euros or Dollars is the same as if it were paid for with local currency. Tend paying in Euro/Dollar, you end up spending more than a payment with the local currency.
When you need to cash abroad, the best and sometimes easiest way is to withdraw by an ATM, which is easily found around the major cities and in all airports. The sampling operation is instead usually more expensive if you use the credit card. Regardless of which type of commission you will be applied whenever the money taken is convenient to try to reduce the number of operations, then opt for one or maybe two samples of larger sums than necessary, rather than making many small withdrawals.
If you make a long journey or you're staying for a long time in a destination it could also be useful to open a bank account, preferably online, with an international bank that has various branches and outlets in countries where you are traveling and therefore provides the facilities, or open an account with a foreign bank on site, transferring the money from your current account opened in your country through a bank transfer: in this way the foreign bank will issue you a new debit or credit card with which to make payments and withdrawals the destination without paying any fees, unless the expenses for the initial transfer.This solution is sometimes essential reveals why every institution and company impose a ceiling and that means that there are limits on the amounts that can be taken per day and month.
Credit cards allow you to travel more quietly, always having a financial resource available and not run the risk of seeing robbed of all the money, as could happen in the past who was traveling only with cash. Of course there is always the risk of being still subtract the paper during a theft or pickpocketing, so it is always necessary to take precautions: Always keep with you the toll free number of the card company emergency use and stored away from the pin code more where it is kept the card and, if possible, keep an ATM or a spare card for emergencies.
If you want extra security, or if you have a limited budget, you may want to opt for a prepaid credit card that you can top up if necessary, choosing the right time according to the change of the currency market. It not is linked to your bank account, in fact, if you happen to suffer a burglary going badly you will lose only the amount available on the card. Some are designed just for travel abroad and can be recharged in euro or in local currency, but also with the prepaid card commissions are applied for each transaction so carefully inquire about the conditions in order to avoid unpleasant surprises.
Treat to get the best price whether it is a money exchange or purchase of a product. Bargaining on the final price of a product can reveal big surprises and sometimes can save up to 50%.
The same applies when changing money on the black market: negotiating on the exchange rate sometimes you get a better purchase price. We must be very careful when you change money in this way: it is true that you can get a better price than the official exchange rate, but it is also true that you can lead you to serious disappointments. In this regard, please consult the link "Currency Converter" of this site, where every moment is referred to the current exchange rate. If you will be skilled in negotiation, making the morning a change of not less than two thousand euro, you can get a very favorable rate that will certainly not be much less than that which will appear in the link suggested in the "Last" column.
Currency and customs formalities
Tourists can freely import or export foreign currencies up to a maximum of US $ 5,000. Beyond this limit, you must complete a form for the Central Bank to be delivered upon entry or exit from the country. The currency must be changed only at authorized offices (banks, hotels and bureaux de change).
Export ban
It is strictly forbidden to export from the country the following items and their derivatives: elephant ivory, rhino horn, sea turtle, coral, coral and reptile skins. Given that the mere possession of these items constitutes a criminal offense and is punishable with severe penalties, it is recommended the maximum attention during airport transit about the possession of ivory jewelry and / or shells.
As for the export of items such as spotted cats, live animals, insects, shells and plants, you should check the provisions in force and possibly ask for an export permit.
The department responsible for important information and authorizations is the Kenya Wildlife Service P.O. Box 40241 – 00100 Nairobi Kenya Tel: +254 (0) 20 6000800 +254 (0) 20 6002345 +254 (0) 726 610508/9 +254 (0) 736 663400 +254 (0) 735 663421 Fax: +254 (20) 6003792.
Travelers with pets (dogs and cats) consult the Conditions for the importation of dogs/cats into Kenya on the site of the Embassy of Kenya in Rome.
We should not blindly believe the regulations issued by the Embassy of Kenya, so much so that dogs and cats up to 10 kg (including carrier), with the permission of the aircraft commander, may travel in the cabin with the passenger. For rely practices to your veterinarian. It's the same speech for the export of dogs and cats from Kenya.
Prohibition of detention
Detain trophies like elephant tusks and rhinoceros horns is strictly prohibited by law and Kenyan liable to arrest or fines salty order even two hundred thousand dollars.
For all other objects affecting a bit 'all because in every house, including the furniture, there may be coral, shells, various furnishings that have sentimental value since purchased many years ago, but especially without a receipt, as is natural, you can get a permit for their detention by contacting the Kenya Wildlife Service (KWS) it might issue a permit that will ensure the legality of possession and, for inspection by the regularity of detention.
A separate discussion about the detention and / or export of shells.
In Kenya it is allowed to hold, in private homes and hotels, sunny shells so long as you always exhibited the valid receipt of the shopkeeper or stall (with stamp or reliable data seller) and there will be problems. Purchases must be made only and exclusively if the seller is able to issue a proper receipt and to adjust is meant by name, or your store logo, description and price of the purchased object.
It should be recalled that the export of shells and fruit is strictly prohibited and, if it cannot be done without, the purchase must be accompanied, in addition to the regular receipt of the seller as said, also of a receipt of the local hygiene office (Health Office) attesting to the inspection of the goods.
Prohibition to photograph or film military and public structures
In Kenya it is strictly forbidden to photograph or film the military and public facilities such as police stations, courts, banks, ferry and airport facilities. Be aware that some well-known venues, such as pubs and restaurants, are located next to or in front of public buildings, so photographing may be risky. To take photos at people, it's best to ask them for permission.
Prohibition of filming with flying supports
In Kenya it is absolutely forbidden to film with the so-called "drones".
Kenya's law strictly forbids the use of drones for national security. Anyone who will be surprised to use a drone on the Kenyan soil, including National Parks and Private Reserves, risks the seizure of the drone and the arrest, unless requested and obtained permissions from both the Kenya Civil Aviation Authority and the Ministry of Defense.
Obligation for hot water systems to be powered by solar energy
In Kenya, from May 27, 2017 owners of a boiler of more than 100 liters, so especially hotels, condos and businesses, will be considered outlawed if their hot water plant will not be solar powered . The law, according to the Energy Regulatory Commission, is part of the country's environmental initiatives.
Prohibition of plastic bags
In Kenya, from August 28, 2017, the use of plastic bags will be forbidden.
Severe penis: 4 million shillings (about 35,000 euros) fine or 4 years imprisonment for those who will be found in plastic bags or companies that will use it.
Kenya is the second African country to ban plastic after Rwanda.
Ban on wearing military uniforms and the like
In Kenya, from 1 March 2019, it will be forbidden to wear military uniforms.
Who will be found wearing clothes that refer to any military order, even foreign, risks arrest.
The prohibition on wearing clothing that can be traced back to law enforcement or military-like uniforms such as overalls, jackets, shirts or t-shirts is extended to both tourists and residents of Kenya.
Ban on bags and shopping bags in polypropylene or imitation fabric
In Kenya, from 1 April 2019, the only allowed bags, in addition to paper, will be the totally ecological ones: sisal, banana fibers or other fabrics made from plants, fruits or the like.
The decision came from NEMA, the governmental body responsible for environmental protection.
Prohibition of entry in Kenya of tobacco, alcohol and otherwise
September 3, 2019 – For several months the Kenyan customs airport in Nairobi and Mombasa have new and effective scanner that can monitor your incoming luggage.
What was possible to be able to stow and hide and pass unscathed through customs, today tends to be controlled, seized, especially when it comes to alcohol and tobacco.
Recall that the maximum allowed for as regards cigarettes is 200 pieces (10 packages) or 50 cigars. For alcohol instead pack you can not carry more than one bottle of spirits over 13 degrees. In the case of bottles of wine, although many official sources it one marker (we we refer to international rules that Kenya submitted to the International Air Transport Association) they are usually accepted for a suitcase, as well as perfume bottles. Among the reported bans, curiously, in addition to fruit and plants (which are required to obtain special authorization) there are also meat and poultry sausages.
A device for those who want to bring more of an alcoholic or a bottle of wine is added to those in your suitcase also one purchased at the Duty Free Shop and brought into the bag, still sealed.
Also remember that any new product with receipt or packaged by the company that sells it shall be subjected to tax. It can also apply to vacuum jars and other packages, especially if they are products that can also be found in Kenya.
Even products packaged in a manner housewife personally could undergo the same treatment, as the plastic of the packaging must bear a mark not to be considered outlaw, then better to use trays or not wrap it in plastic.
It is in any case more carefully at the entrance and the realization that not all the officers who take to make you enforce rules that exist, they do it to try to pocket a bribe from you. With a humble and respectful attitude you often get unexpected results ….
by MalindiKenya.net
State Code
KE
Automotive Code
EAK (East Africa Kenya)
Religion
The religious affiliation is as follows: other Protestants and Presbyterians, Quakers, Catholics and 45% 35% Orthodox, Muslim 11%, 9% traditional religions. Others include Hinduism, animism, Sikhism, Jainism and bahá ' í belief. Kenya contains the largest group of Quakers in a single nation.
Language
English (92%), Kiswahili (8%), Sheng (slang). English and Kiswahili are considered official languages of the National Assembly and all acts can be written in one or both of these languages. In some cities of the coast is the Italian (Malindi, Watamu, etc.)
Telecommunications
Prefix for Italy: 0039 fixed-line or mobile +39
Prefix from Italy: 00254 fixed-line or mobile +254
In the country the GSM mobile phone network is widespread that provides Internet connection services also wireless technology 3G/4G. There are four mobile operators: Safaricom, Airtel, Orange, Telkom. In many centers it is developing the ADSL network.
TELEPHONY & INTERNET
Call Kenya with European operators can be quite expensive, I suggest, therefore, to buy a SIM Kenya with relative charge.
The SIM can be purchased at the airport or in the industry stores found in major urban centers. You can choose the best option for you. I recommend you buy a refill for the plan "voice" and one for "Internet Data" plan.
Data Plan Safaricom: 2Gb Internet in 3G/4G cost Kshs 1000 (about 10 €). Also available are micro sim smartphone. The only cost of a SIM is 1 Euro. The SIM must be recorded (for non-residents with passport) if you want to work. Remember not to give it to the end of vacation as it will be registered in your name!
That way you can safely call home without spending a fortune and, above all, if you were to call from Italy on the number of Kenya, you will not spend anything.
Many local and resorts have WI-FI free. In some hotels the data connection is charged. You should then purchase a SIM and related voice and data plans, so you can use it everywhere you go, even in the bush.
Safety
You should avoid going out during the night and not flaunt jewelry or large sums of money. It is recommended to avoid areas on the border with Somalia and Ethiopia, the region of Lake Turkana, Trans-Nzoia area, the Isiolo and Marsabit area.
It is recommended that the utmost attention for travelers wishing to travel in particular in the area coastal (Mombasa, Malindi, Lamu). Avoid as far as possible, the places of the best known tourist crowds (nightclubs and restaurants).
Aggression and crime : in general, tourists are most involved in the theft problems in those attacks. That's why it is recommended to leave your valuables in the safe (the hotel rooms are generally equipped), to be very vigilant in public places and at airports, and to avoid neighborhoods and deserted beaches or unlit roads at night, especially in Nairobi (especially the Eastleigh district), Kisumu and Mombasa. Beware of people who present themselves as students of your language, policemen, employees of hotels and representatives of the government because some of them might be swindlers (ask a professional document).
Animal danger: in the reserves, the danger that represents the wildlife remains limited because visitors "should", and I repeat should, be accompanied by professionals and not by any charlatans who are in most agencies.
On the coast the reef where it exists, "it should" protects bathers from the attack of any sharks. On the other hand, you may want to bring light shoes to protect themselves, in the corals, the "stone fish" and the "dragon fish", whose poisonous bites can be deadly.
For the latest tourist information, on the state of the roads and to any aid in an emergency, the Kenya Tourism Federation has a security center and communications: Tel .: Nairobi, 254-2-604767, or e- mail: [email protected] .
City of Kenya
Activities in Kenya
ADDITIONAL TIPS
Always carry medicines for intestinal disorders.
While antibiotics are generally on hand in most of the world, those that treat inflammation of the intestine are not as universal and effective as we can procure in Italy. Having them with you is important to avoid serious complications, such as dehydration, which can completely ruin your vacation if you do not put lives at risk.
Always carry medicines for pain.
Better to always have your pain: it is said they are marketed or easily available in other countries.
Learn more and three phrases of the local language: thank you, yes and no, in addition to emergency phrases.
Often there will be useful to know a basic vocabulary in the local language, because in some countries almost no one speaks English, except for the new generations and in an emergency some phrases you will certainly be useful and could even save your Documentatevi life on the customs and taboos locals.
Knowing how to greet and customs of politeness and kindness of the local population will facilitate the work and avoid unpleasant misunderstanding. It will be useful to know any taboos and food prohibitions, so always respect religions, customs and cultures.
Find out more about the situation of the country where you travel.
Better not get caught off guard by political unrest, floods and states of emergency. Keep up to date.
Do not travel with too heavy luggage.
The advice is to travel light, the slow and too heavy luggage they will get tired.
Carry a credit card.
Keep it in a different place from the wallet: you will not be dry in case of theft or loss. When you go out, take only the money you need, so you'll always have a spare budget.
At the airport.
Leave at the arrival airport as soon as possible avoiding to be bothered by people who in their own way they want to solve you problems instead risks that you will cause.
Behavior.
– Where there is poverty, lifestyle leads locals to scrub the traveler and even more tourists. This applies to be particularly careful.
– When local people asking you if you're traveling alone, one thing you should not ever do is say yes.
– Always give a good impression of security in themselves, always having in hand the control of the situation, even if the reality is quite different.
– Respect those who will not be photographed even if most of the time because they want a small gift, you may come across motives linked to tribal beliefs and suffer very unpleasant reactions.
– Starting from the assumption that they are not all terrorists that you want to rob, beat and kill, that does not mean blindly trust the first pass, but you have to be able to evaluate in a reasonable and objective people in front of you.
– there is the cult of bargaining on prices, in some cases making no passes through the upper and arrogant: it is correct to get the right price with courtesy and education, and is also a good way In Kenya, as in many African countries, the know people.
– Always respect the country that you are accepting. Always choose to dress soberly, discreetly without appearing too and indeed, trying to attract little attention.
– Always choose a clean housing, trying to make sure there is running water and electricity. A candle may be a good thing in the case of blackouts. Sometimes you need to check other things such as window and door locks (if any). Check the presence of the mosquito net hanging over the bed while it is important that the windows have intact retinas where even a small little hole might be sufficient at the entrance of the infamous enemy!
– Eating in places where there is' a lot of people, and only drink water or other drinks in sealed bottles, always avoiding the ice. It is said that the places frequented by foreigners are the best, and in some cases can boast of being only the lesser evil!

Tips for travel in pairs.
The torque trip can be a magical time for lovers, but also a delicate moment in which you can discover unknown sides of their partners and experience unexpected tensions in the relationship. To avoid unpleasant surprises, here's a little guide with the most important tips in order for the coveted trip does not turn into a "nightmare couple"!
– If you are both susceptible and prone to controversy, better organize everything to the smallest details in time: airline tickets, hotel booking, places to visit … so the chances of an unexpected problem will minimize and you manage to avoid the classic phrases "I told you so" ,"Never listen to me" , premises of long and useless quarrels.
– You're used to traveling light, but your partner can not make it? She for a week-long trip to Africa pack brings the entire wardrobe autumn / winter and he all equipment for diving and climbing? Better to leave home that is unnecessary when traveling, but if the luggage of your partner do not exceed the permitted weight limits, be understanding and avoid arguing before leaving.
– If in a couple matches avoided the odd man out. It may also be an intimate longtime friend of both, but there will be situations of hardship for him and for you. If you do not want to do without your friend, aggiungetene another to the departing group, so when the romantic moments you'll want to isolate with your sweetie, l ' "friend" will not be forced to kill time alone and maybe, if you have chosen well the fourth / a member of the travel group, will be born thanks to you a new pair!
– The issue of money is one of the most delicate, especially if the couple he or she is particularly stingy. Better, then, before we left, creating a small common fund and make a rough estimate of the costs that you will face on the road. Alternatively you can always seek a more generous partners ….
– It is well known that foreigners always have a particular charm, "exotic", the tourists on vacation, but if you are traveling with your partner checked the "Latin lover" within you and try not to devour with his eyes lower back of the "gazelle" crossing the road in front of you or in the case of her, "Toblerone" of the "beach boys" on the beach.
– The world is beautiful because it is different and even within a well-matched pair can each have different tastes on their priorities on the road. In this case the only solution that can not be compromised.
– It is good to remember that to make himself understood well in a foreign country does not need to speak more slowly in Italian, perhaps repeating the same things in a tone of the highest voice should instead simply speak the language of the place you visit or at least that at least one of them knows English.
Climate Kenya.
Check the link to know the current weather conditions and weather forecasts throughout Kenya, as well as temperature, humidity, precipitation, winds, waves, tides, sky conditions, solar radiation, and all useful information for your journey and your stay in the country.
Warnings and precautions to be used during your stay in Kenya
1. Remember that Kenya is a foreign country, a young nation on the African continent with history, laws, customs and culture very different from yours. Never think, not even a minute, of being on the Costa Smeralda, in Formentera or in Rimini.
2. Always carry your passport with you, not just a photocopy. If you intend to drive, as well as being aware that in Kenya there is driving on the right as in England, you must have an international driving license. Seat belts in Kenya are also mandatory for rear seat passengers.
3. If you take a boda-boda, motorcycle taxis, take them individually even if the driver tells you that you can get on two or three people at the same time. You will spend a few euros more, but you will be in legality. The driver should have a helmet, but if he has not, let him know that if the police stop, he will be the culprit and not you. IT DOES NOT MATTER if the locals go up in 4 on a boda-boda and nobody stops them, or if they turn on the bikes without a helmet. Let's say that with their compatriots, who often would not have the money to pay any fines and would end up directly in prison, the police are more forgiving. But we are foreigners in this country and we have (on paper) much more financial resources than they do. Never forget it.
4. Always respect people and put yourself in a kind way with them. Language can be a reason for misunderstanding. Precisely for this reason it does not mean that you can blindly trust those who speak Italian. In Italy you would hardly be friends with a foreigner whom you have known for half a day, just because he speaks your language. Apply the same rule also in Kenya, especially since you are foreigners and often those who speak Italian, especially if it is a "beach boy", do it by profession. Be cordial but naturally suspicious, letting yourself be guided by common sense, rather than by the enthusiasm that tells you that "everything is beautiful on vacation".
5. On the coast of Kenya there is a significant Muslim minority, a certain gentleness in the way of dressing is recommended. Topless on the beach or while swimming is absolutely forbidden. Excessive effusions, even just "petting" can be punished by law.
6. Always ask for a receipt for every purchase you make, especially if you pay in advance or give a deposit for safaris, rental cars, apartments or whatever.
7. In Kenya it is forbidden to collect shells, corals and any other kind of fossil, carapace or other from the sea or the coast, it is absolutely forbidden to possess ivory or objects obtained from animals of any kind. There are some shops and stalls authorized to sell objects made from land or sea animals, and even shells. In case they have to issue you a receipt bearing the name or stamp of the retailer. In the case of the purchase of shells or even fruit, in order to travel back with these items, you must have a receipt from the local Health Office which checked the goods.
8. Carefully avoid communicating the exact date of your departure to anyone. It is a good rule (as recommended by the Kilifi County Prefecture) not to give too many details to the people you have known recently about your location and on the date and methods of returning to Italy. Most of the robberies and thefts that occur during the high season (fortunately not many, but there are) take place just before the start and the authors are often people who have been given this kind of confidence.
9. In the case of meeting with a person with whom you have an emotional or sexual relationship, try to be clear from the first time that it is an occasional meeting. If the meetings continue during the holiday, avoid becoming overwhelmed. In Kenya, prostitution is legal because there is no direct exploitation of the body's goods. There are no "ruffians" but people are free to manage their profession. Precisely for this reason they often do not present themselves as such, but as possible friends and companies. This can displace those who are used to the figure of the prostitute or the gigolo of European culture.
10. Kenya is a splendid country, but also one of the world's nations with the highest level of corruption. In case you are the victim of a request for "tips" for something you have not committed or for a situation where you are sure you are not guilty, do not panic.
Let yourself be safely led to the police station, if this is the "threat" and know that by law before being eventually imprisoned you have the right to the presence of a legal representative. Always bring the telephone number of a local contact person with you who can help or assist you before the police. If, on the other hand, you are in contravention, be aware that Kenyan law plans to appear before a judge to present his reasons, and always a financial penalty alternative to detention, as it immediately provides for provisional release on bail.

NOT TO DO
1. Do not do what you would not do in your country: with the Internet and globalization, the gap between the Western world and certain African countries has narrowed significantly. In this case the appearance is deceiving, because poverty is very evident and not hidden as in other places in the world and the simplicity of the people, mistaken for submissiveness, can be easily misunderstood. In short, in simple terms it may seem that everything is allowed on the Kenyan coast. Applies to the highway code, for example: seeing four people on a motorcycle does not automatically mean that you can too.
2. Do not go around without documents: when you are outside the hotel or from the accommodation of the holiday, always carry an identity document with you, that is, a passport for foreigners. Not being able to prove that you are regularly in Kenya is considered an infringement and you can be taken to the police station for investigations and lose precious hours of your vacation, as well as risking falling into the "trap" of the request for a bribe from corrupt police officers . Do not forget that Kenya is one of the African countries where small corruption is widespread. No selfies with starfish: as we have written several times, beautiful starfish are an endangered species and removing them even for a few minutes from the water can cause their death. Not only should you avoid the stupid "selfie" fashion with the star, but also explain to the local population (tour leaders, beach operators) that this is to be avoided.
3. Do not give candy to children: when you come into contact with local children and young people, they will ask you for "candy", sometimes in Italian, or in their own language, kiswahili, "Peremende". It is normal for a child to want candy, but if you think of how many tourists each week do not resist this call, more or less in the same areas, and how many candies these children eat, you can understand why in the last twenty years in Malindi and Watamu caries problems have appeared that the coastal population had never had and above all that they do not have the money to cure. A fruit is always better, but the best is to give them the 125 cl milk minibrik. Protein and calcium, to strengthen the teeth, not to destroy them.
4. Don't flaunt wealth: there are many episodes of this kind, absolutely non-educational and also not very respectful of the people you meet. The fact that many Kenyans in tourist places present themselves to you with a designer t-shirt and branded sports shoes and that they speak fluent Italian does not make them people of the same social and economic status. Many of them (and you will notice when they may invite you to their home, to their village) still live in mud or sheet metal huts and earn in a year (or even more) what you can spend on a holiday in Kenya.
5. Do not pollute: from the point of view of the "global challenge", Kenya is certainly one of the countries ahead not only of the Black Continent. Plastic bags have been abolished for two years and in 2020 parks and beaches will also be banned plastic bottles. Try to respect nature too, using as little plastic as possible and not dispersing it in the environment, despite the lack of baskets and the lack (even for a short time) of separate collection.
6. Do not photograph police or military personnel: in Kenya it is absolutely forbidden to take photographs of citizens in uniform or armed soldiers. Penalty, the immediate arrest and seizure of the camera. Also forbidden to photograph police stations and government offices.
7. No topless or outpourings on the beaches: despite the tropical climate and the sense of abandonment and freedom on the beaches of the Kenyan coast, there is an absolute prohibition in the country to expose naked breasts by women. Just as national law punishes those who in public places let themselves go with their partner to outrageous outbursts. Sometimes a simple prolonged "petting" can suffice and you risk reporting.
8. Gay and lesbian people, don't show it in public: despite great strides made in recent years by the nascent movements of LGTB activists, homosexuality is still discriminated against in Kenya. Declaring yourself or showing yourself publicly is considered a provocation, therefore an offense punishable by penalties of up to ten years of imprisonment.
9. Do not communicate the departure date: if possible, avoid communicating the exact date of your departure to anyone. It is a good rule (as recommended by the Kilifi County Prefecture) not to give too many details to the people you have known recently about your location and on the date and methods of returning to Italy. Most of the robberies and thefts that occur during the high season (fortunately not many, but there are) take place just before the start and the authors are often people who have been given this kind of confidence.
by malindikenya.net
Italian Embassy and Consulates
Embassy of Italy in Nairobi Ambassador: Mr. Alberto Pieri
United Nation Crescent, Gigiri
PO Box 63389-00169 Muthaiga – Nairobi
Tel: +254 (0) 20 5137500, +254 (0) 20 5137550, +254 (0) 20 2247750,
+254 (0) 20 343 144, +254 ( 0) 20 2247696, +254 (0) 20 2247755
Fax: +254 (0) 703 136 286, +254 (0) 20 2247086
Emergency: +254 (0) 20 5137500 (Monday to Friday 08:00 to 16:00)
Cell phone availability: +254 (0) 722 514 327 (daily 16:00 to 21:00)
Crisis Unit: +39063 6225 (available 24 hours, every day)
E-mail: [email protected] ; [email protected]
Honorary Consulate of Mombasa Consul: Mr. Fiorenzo Castellano
MSC Plaza, off Moi Avenue 5th floor, Kililindi Rd
at P.O. Box 80637-80100 MOMBASA
Tel: +254 (0) 41 2312626, +254 (0) 41 2223446
Fax: +254 (0) 41 2311192
Mobile: +254 (0) 733.631488
E-mail: [email protected] ; [email protected]
Honorary Consulate of Malindi Consul: Mr. Ivan Del Prete (from 3/18/2016)
Sabaki Center Lamu Road
P.O. Box 704-80200 Malindi
Tel: +254 (0) 20 502 4221, +254 (0) 4221 20740
Emergencies: +254 (0) 722.264835
Fax +254 (0) 4221 31170
Mobile: +254 (0) 715.507000
E-mail: [email protected]
Consular correspondent in Diani
Mr. Mario Scianna
Cell: +254 (0) 722.412397
E-mail: [email protected]
Consular correspondent in Kilifi
Mr. Martino Lai
Cell: +254 (0) 722.426781
Consular correspondent in Watamu
Mr. Marco Cavalli (from 10.09.2016 replaces Mr. Giovanni Parazzi)
Cell: +254 (0) 705.249556
Consular correspondent in Malindi
Mr. Roberto Macrì
Cell: +254 (0) 722.825392
Contact Co.Mi.Tes. Malindi
Mr. Roberto Macrì
Cell: +254 (0) 722.825392
NB calling from abroad do not dial (0) after the country code.